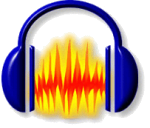 Awesome Audacity
Audacity is used to record and edit audio files. This can then be used by teachers or students.
Audacity is an Open Source sound editing tool. It is on the DER laptops, and is available for free.
Workshop notes on how to use Audacity are available here,
or you may want to visit the official Audacity wiki.
or view this alternative podcasting tutorial.
What about Podcasts?
Podcasts could be created using Dreamweaver, or Podcastgenerator.
iTunes U is designed for educational institutions to distribute lessons etc. Find out more here, and with this guide.
I have a few more ideas on how to use audio files. Other ideas are available on the Podcasts in Education Guide and Tutorial>
Music can be created for a great background effect at Jamstudio or use pre-recorded sounds from freeloops.
Some podcasting myths exist, but as can be seen, audio files can be used in many ways.