The relationship between frequency (ƒ ), wavelength (λ ) and speed (v) is represented by the formula v = ƒλ .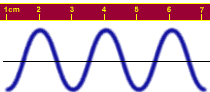 This wave has a frequency of 10Hz.
Use the ruler shown in the diagram to measure the wavelength and then using the formula calculate the speed of the wave.